Listing your first offer with Kenzap is easy but you first need to be accepted into the platform. I recommend you get through this Getting Started article first.
Once you have showed sufficient level of expertise to Kenzap you may list your first offer.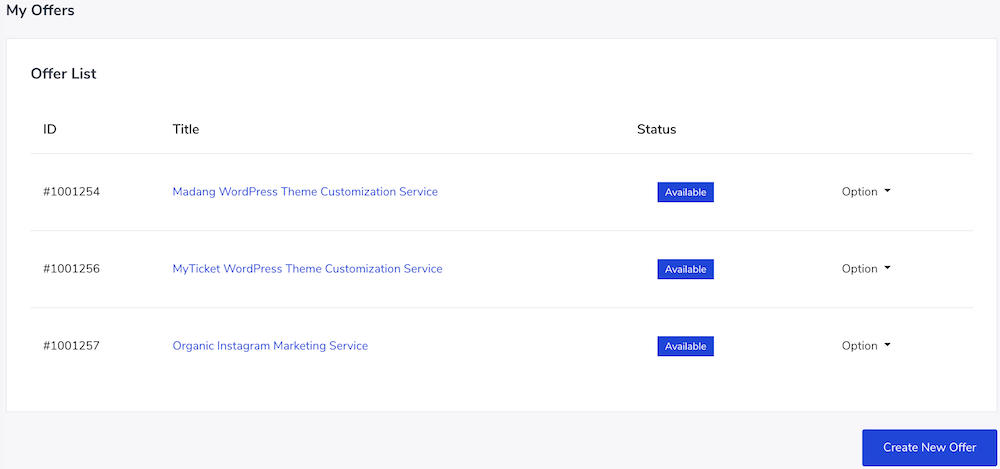 Go to My Account > My Offer and click on Create New Offer button. This will trigger a popup window as shown below.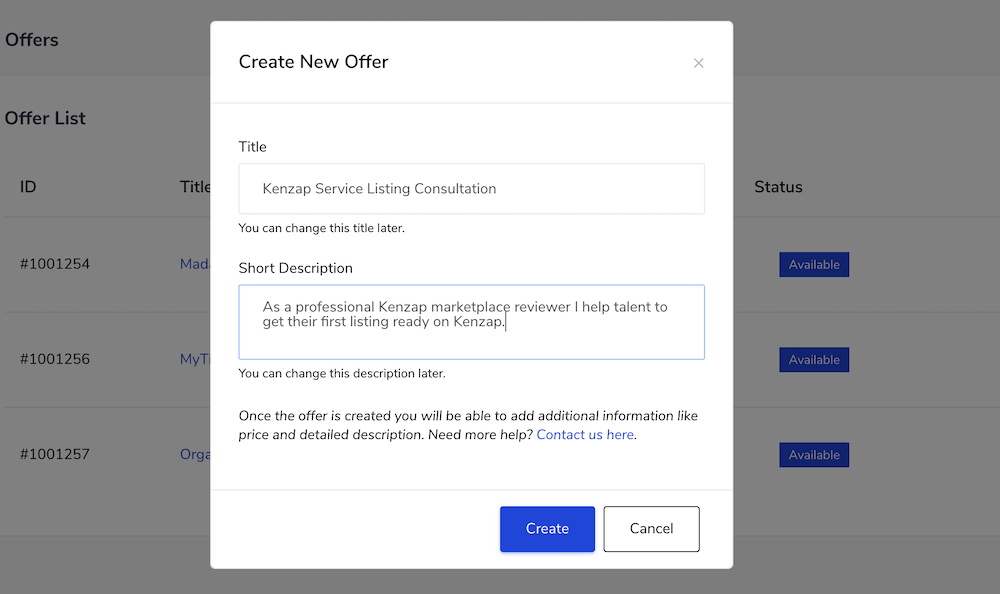 Provide title and short description of your offer. Try to make it short and straight to the point. Avoid keyword stuffing and follow these guidelines carefully.
Once done click on Create button. By default you need to enter listing information in English but other languages are also welcomed. In fact in order to achieve better user experience over different markets we may translate your listings into other languages on your behalf.
Choose the right category that closely matches your listing. Note. You can not create custom categories but you can request us to have one by contacting over: https://kenzap.com/help-center/
Fill in:
Title – is shown whenever your offer is listed.
Short Description – is displayed during listing search and under main marketplace pace.
Long Description – is only listed under main landing page of your offer.
Provide images and youtube link if you want to showcase your offer over video channel.
Features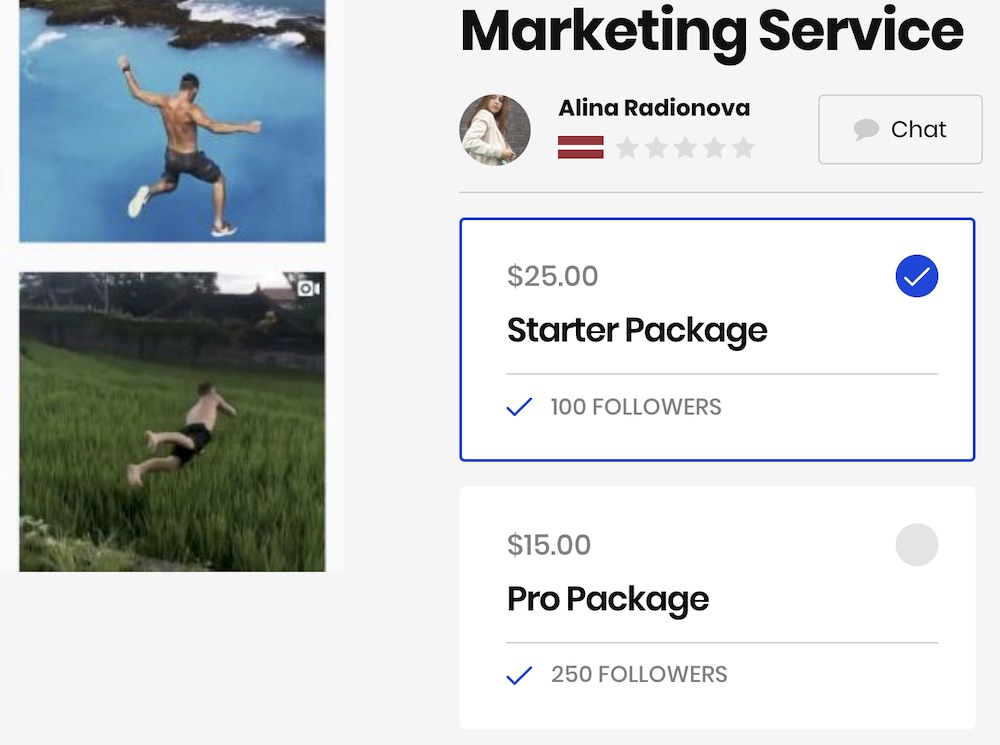 Every listing must specify features. Features are used for price variations to differentiate what is included into the price offer and what is not. For example, consider specifying these two features:
free 24/7 chat support.
3 free revisions.
If you define two price packages Individual package and Business package you can include "3 free revisions" feature for both of these packages while "free 24/7 chat support" can be only included for Business package.
In such a way customers can see price difference in a more straightforward and transparent way. Features are arbitrary you can define any feature that you think describes your listing best.
Price Variations
The core of any monetization strategy is to define the right pricing strategy. The recommendation here will be to variety with different price ranges over different time ranges. This will help you understand your conversion rates better and eventually increase your income rates.
Pricing strategy may also vary. You can define a fixed price per your service or can set up an hour rate. For example, if you create 500 words pricing offer customer can then choose the right quantity they need most.
1 QTY = 500 words
2 QTY = 1000 words
3 QTY = 1500 words
…
Alternatively the hour rate example may look as following. It takes you to create 450-600 words article depending on the topic complexity per one hour.
1 QTY = 1 hour
2 QTY = 2 hours
3 QTY = 3 hours
…
The that the price will be updated accordingly regardless the pricing definition.
FAQ Section
When your listing starts getting more traction online you may experience more questions from potential buyer. Unfortunately sometimes it is not enough to describe everything under description section as some customers may not read it completely.
Frequently Asked Question (FAQ) section is a good workaround here as it provides on the fly preview of most popular questions in one place. Consider filling up this section to help your potential customer answer question already before they try to reach you.